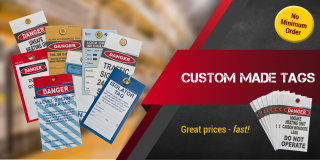 Lockout signs and tags are an important part of any lockout tagout process and help to prevent hazards in the workplace. They are often used in conjunction with lockout devices for locking off an isolation point and assist in ensuring correct procedures are being adhered to.  Lockout-tagout not only improves the productivity but cut costs and saves lives.
The Role of Tags in the Lockout Tag-Out Process
Tags are often colour-coded, textual, diagrams or visuals of warnings during lockouts. However, they play an even greater role in cases where energy-isolation devices cannot be physically locked out. Energy isolation equipment that does not support hasps, safety padlocks, lockable switches, or snap on valve covers, need to be appropriately tagged out to let people know that a particular energy source has been isolated and should not be accessed.