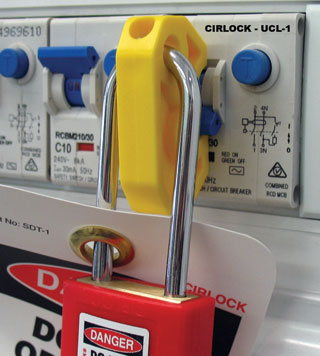 A real reminder of the importance of using Lockout equipment!  Lucky no-one was seriously hurt!
Source: Electrical Licensing Committee disciplinary outcomes
Disciplinary action can be taken against electrical licence holders who perform unsafe, negligent or incompetent electrical work. Action includes licence cancellation or suspension, fines, or orders for faulty work to be corrected.  On 1st August 2017, the Electrical Licensing Committee held a disciplinary hearings against this licence holder:-
An electrical contractor was fined $500 for leaving an unfinished electrical installation in an unsafe state with insulation tape over energised light switches and circuit breakers supplying un-terminated cables. The homeowners were living at the property while the renovation was taking place and several people received an electric shock, including a small child.
The contractor's licence was suspended for six months until an independent audit demonstrates adequate electrical safe systems of work in place to ensure compliance with all relevant acts and regulations. The electrician also had his QTP status suspended for six months (but deferred for three) until completion of two competency units at a registered training organisation.
A reminder of the importance of using lockouts!