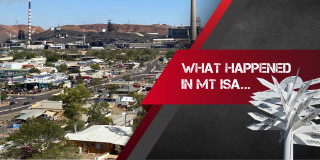 Cirlock had a trip down memory lane last week, heading back to our hometown Mount Isa.  In 1992 Cirlock officially opened its doors as a lockout tagout manufacturer in Mount Isa, in a small shed owned by founder Erik Larsen. 
The purpose of our recent visit was for the CNW Electrical Wholesale Mount Isa Trade Day.  Nicole spent time talking to the locals many of whom were around with Erik when he first started the business.  "It was humbling to hear all of their stories and memories of Erik and the original Aluminium Cirlock System", said Nicole, "The Aluminium Cirlock System is still being used around Australia to this day".
At the Trade Day Cirlock showcased the latest Aluminium Cirlock System, as well as the SALD-X-2 Lockout for NS and NSX style breakers, and our very own designed Isolator Bar Lockout Device IBL-KIT.  All of these products were a huge hit with all the Electricians and Electrical Engineers.  The SALD-X-2 and Isolator Bar Lockout Device IBL-KIT are both proudly made by us here on the Sunshine Coast, Australia.